This is a Sponsored post written by me on behalf of Walmart for SocialSpark. All opinions are 100% mine.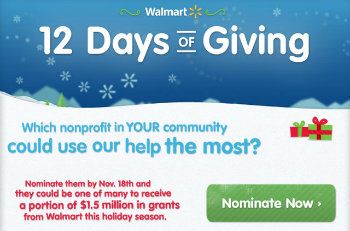 This holiday season, Walmart will be giving a total of $1.5 million in grants to benefit local communities across the country and provide basic need items like food, diapers, coats, baby formula and other cold weather clothing to those in need.
During the campaign, Americans will have an opportunity to voice which organizations they feel need support and deserve to win a portion of the $1.5 million in grants.
So between November 1 and November 18, you can vote for local nonprofits on Facebook. On December 10, Walmart will start the 12 Days of Giving by announcing funding to the winning nonprofits that were nominated on Facebook.
Visit the Live Better application on Walmart's Facebook page to start and simply fill up the following details:
Nonprofit name
Nonprofit contact info
Nonprofit website
Photo (optional)
That's it!
Take your time deciding which non profit organization you nominate. There are photos and information on each and every one of them so you will have an idea about them.
I would like to invite you all my readers to nominate a local nonprofit and vote one of your choice. Please leave a comment as well and share the nonprofit that you nominated.
As for me, I chose Cradles To Crayons because when I saw the photo of a kid, it was a no brainer for me to choose that one right away. I always have a soft heart for kids especially disadvantaged children who need the utmost care. So I hope they will win the grant!
Feel the spirit of Christmas. All it takes is a little of your time to go through the nomination process. Once you nominate a non profit organization, post it in your timeline wall in Facebook so others can also find out and vote for their nomination.