This is a Sponsored post written by me on behalf of Immortalized On AMC for SocialSpark. All opinions are 100% mine.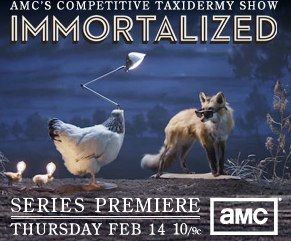 I think at first not many people may think Immortalized to be a bit interesting considering that in the world of taxidermy, you have to understand the concept and logic behind it in order to grasp the episodes depicted in the Immortalized TV series.
However, even on the first episode, they certainly projected an easy way for viewers to grasp and understand how things work.
AMC's new unscripted series Immortalized brings viewers into the captivating and provocative world of creative and competitive taxidermy. Immortalized explores the passionate detail and artistic expression that goes into creating this compelling art. The hides used in the artists' work were procured through a variety of ways, all of which are in strict accordance with the law.
Each episode will feature one of four highly regarded "Immortalizers" facing off against a "Challenger" in a competition. Their task is to create a piece to be judged on three criteria; originality, craftsmanship and interpretation of the designated theme.
Whether the artists are known for their classic or rogue creations, each week they will work to perfect this centuries-old art form in an unprecedented battle.
Immortalized airs Thursdays at 10pm EST/9pm CST, only on AMC! Immortalized; find out more!