Share the post "Join Vectra's Protect The Love Facebook Sweepstakes!"
This is a Sponsored post written by me on behalf of Vectra flea & tick control for SocialSpark. All opinions are 100% mine.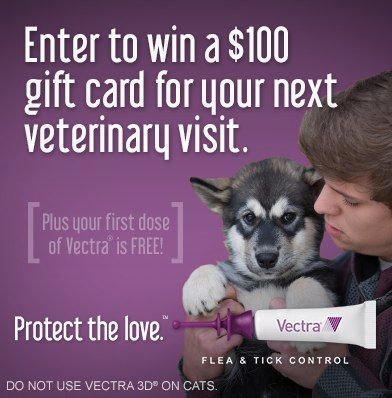 Vectra, a product of Ceva Animal Health LLC to combat flea and tick on dogs is hosting a contest called the Protect the love Sweepstakes.
The winner will get a chance to win a $100 gift card to use at their next veterinarian visit. A gift card will be rewarded each week for the duration of the sweepstakes.
Simply visit their Facebook page and like it. Fill up the short form with your personal details and that is it! You will then be eligible to win weekly.
Each entrant to the Protect the love Sweepstakes can also claim a free dose of Vectra flea & tick control. Users can print out a coupon for a free dose to redeem at a Vectra veterinarian near them.
Vectra us about pushing away those annoying pests like fleas, ticks and other dangerous vectors that infect your dog. It only takes one bite to potentially spread disease.
A fast acting, long lasting, broad spectrum protection of Vectra 3D is just the right ingredient to keep your pet dogs at bay from these dangerous nuisances.
Dogs are just as susceptible to diseases as we are. Check out this short video to find out more about Vectra 3D. Also follow @VectraPet on Twitter.
Here is a photo of my labrador dog enjoying life free of flea and tick worries.
Doesn't he look just dandy and comfortable? Imagine your dog getting twitchy all the time because of the discomfort ticks and/or fleas can cause.
Try and check out Vectra!